CHOCOLATE CHIP FUDGIE CUPS


Serves 2 dozen

This cookie has something for everyone. The crust is chocolate chip cookie dough; the filling is a rich brownie. They take a little time make, but are well worth the effort.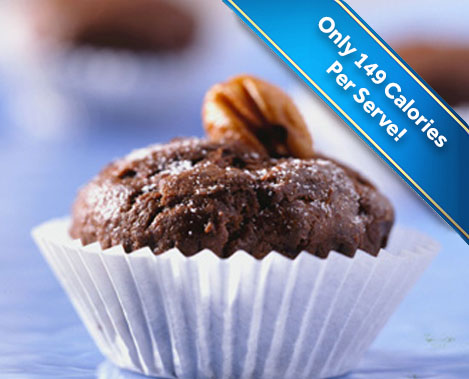 Ingredients:
CHOCOLATE CHIP DOUGH
1/3 cup butter, softened
1 egg
1 teaspoon vanilla extract
8 sticks Equal Classic Zero Calorie Sweetener
1/3 cup firmly packed brown sugar
1 cup all-purpose flour
1/2 teaspoon baking soda
1/4 teaspoon salt
1/2 cup mini semi-sweet chocolate chips
FUDGE NUT FILLING
1/2 cup unsweetened applesauce
6 tablespoons unsalted butter, softened
2 eggs
1 teaspoon vanilla extract
24 sticks Equal Classic Zero Calorie Sweetener
3/4 cup all-purpose flour
6 tablespoons unsweetened cocoa
1/3 cup chopped nuts
1 teaspoon baking powder
1/4 teaspoon salt
Pecan halves, optional
Preparation
Preheat oven to 350°F.
Beat butter with electric mixer until fluffy. Beat in egg and vanilla until blended. Mix in Equal Classic Zero Calorie Sweetener and brown sugar until combined.
Mix combined flour, baking soda and salt. Mix into butter mixture until well blended. Stir in chocolate chips.
Drop dough by rounded teaspoons onto ungreased baking sheet. Bake 8 to 10 minutes or until light golden color. Remove to wire rack to cool completely.
Store in airtight containers at room temperature.
Serves 2 dozen.
Nutrition Information (per serving)
Calories: 149
Protein: 1 g
Carbohydrates: 18 g
Fat: 8 g
Cholesterol: 15 mg
Sodium: 1 mg