Equal Gold Sugarly Zero Calorie Sweetener
Available pack sizes: 150 grams, 400 grams
Equal Gold Sugarly Zero Calorie Sweetener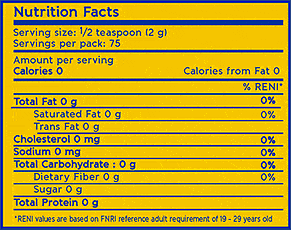 To learn more about Equal products and ingredients click here.
Ingredients:
Erythritol, Sucralose
Equal Gold Sugarly Zero Calorie Sweetener
Equal Gold Sugarly Zero Calorie Sweetener is a great sugar replacement for baking decadent desserts and cooking delicious meals. Equal Gold has 0 calories and 0 net carbs so it's perfect for those who are weight conscious or follow a keto and low carb diet.
With its crunchy, granular texture, it tastes and acts like sugar, so you can create your favorite cake or cookie recipes but with much less calories. It also rounds up the flavor of your favorite home cooked chicken and pork dishes.
• Great for baking and cooking
• Tastes like sugar without the calories
• Perfect for keto and low carb diets
• Gluten free
1 teaspoon sweetens like 2 teaspoons of sugar.

0 calories, 0 sugar, 0 cholesterol, 0 trans fat
Shop Equal online!
Also available:
Equal Gold Zero Calorie Sweetener Sticks