NO BAKE CHOCOLATE CHEESECAKE
This is for the chocolate cake lovers. We have prepared a cheesecake recipe! And as a no-bake recipe, it's super simple and can be done by most families with ease.
Recipe courtesy of the MeatMen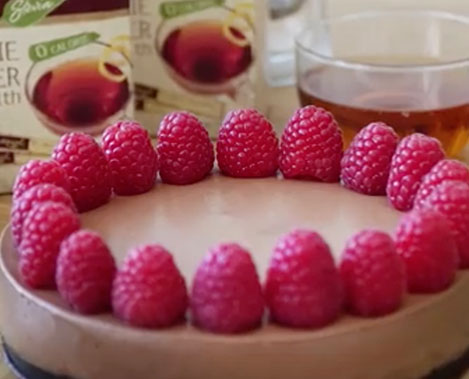 Ingredients
90g chocolate biscuit (Oreo minus filling)
45g butter (half melted)
120g cream cheese
120g milk
30g cocoa powder
30g (15 sticks) Naturals Stevia Zero Calorie Sweetener
1 vanilla bean pod
2 gelatine sheets
200g whipping cream
Raspberries or fruits for garnish
Preparation
Blend chocolate biscuit and butter together in a food processor, then press into base of a ring mould. Place in fridge to firm up.
Blend cream cheese, milk, cocoa powder and Naturals Stevia Zero Calorie Sweetener.
Transfer the cheese mixture into a bowl. Place the bowl over a saucepan of lightly simmering water. Stir until the cheese mixture is warm.
Soften gelatin in cold water for a few seconds, remove from water, squeeze out excess water. Add softened gelatin to the warm cheese mixture. Stir to dissolve the gelatin.
Remove the bowl from the heat. Allow the mixture o cool to room temperature.
Meanwhile whip cream until soft peak. Fold into the cooled cheese mixture.
Pour into the ring mould and allow to set for four hours.
Heat the sides of the ring mould to unmould. Decorate with fresh berries.
Serves (1) 7-inch round cake
Servings: 7 inch cake
Time: 5 hours
Skill: Easy