YOGURT PARFAIT WITH GRANOLA AND BERRIES


Serves 4

An ideal breakfast, snack or dessert, this show-stopping parfait by Chris Smith, The Diabetic Chef®, combines homemade granola with Greek yogurt, cinnamon and fresh berries.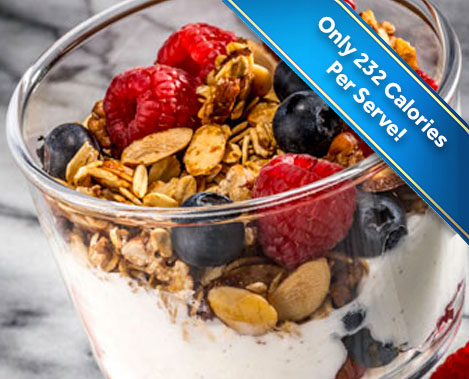 Ingredients:
Granola
1 cup uncooked old fashioned oats
2 tablespoons sliced almonds
2 tablespoons chopped pecans
3 sticks Equal Classic Zero Calorie Sweetener
1 tablespoon grape seed OR vegetable oil
1/2 teaspoon vanilla extract
Parfaits
16 ounces plain nonfat Greek yogurt
1-1/2 sticks Equal Classic Zero Calorie Sweetener
1/4 teaspoon ground cinnamon
2 ounces fresh blueberries
2 ounces fresh raspberries
Preparation:
For Granola, preheat oven to 325°F.
Combine all ingredients. Spread evenly on baking sheet. Bake 45 minutes. Remove from oven and cool completely.
For Parfaits, combine all ingredients. Divide mixture evenly between 4 dishes before serving.
Serves 4.
Nutrition Information (per serving)
Calories: 232
Protein: 15 g
Carbohydrates: 24 g
Fat: 9 g
Cholesterol: 6 mg
Sodium: 41 mg