BRAISED PORK BELLY


1 Serving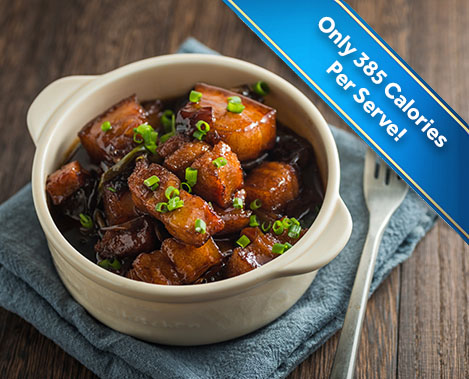 Ingredients:
130 g Pork Belly
1 tsp Chinese Rice Wine (optional)
2 tsp Soy Sauce
1 tsp Dark Soy Sauce
2 sliced Ginger
1 tbspEqual Gold Sugarly Zero Calorie Sweetener
1 Scallions
Preparation:
Wash the pork belly and blanch in boiling water for one minute and drain.
Cut the pork belly into same-size pieces.
In a small pot, lay the scallions on the bottom and lay the pork belly skin-side down on top of the ginger.
Pour over the Chinese rice wine, soy sauce, and dark soy sauce. Add the Equal Gold Sugarly Zero
Calorie Sweetener to the pot.
Cover the pot and place it over medium high heat. Once the liquid in the pot comes to a boil.
Immediately turn down the heat to low and simmer for 30 minutes.
Nutrition Information (per serving)
Only 385 calories per serve.