GRILLED CHICKEN WINGS


1 Serving (3 pcs)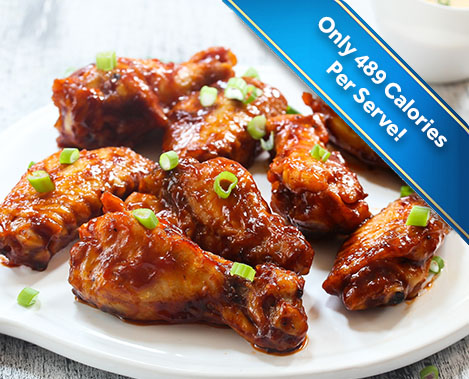 Ingredients:
Sauce
Equal Gold Sugarly Zero Calorie Sweetener- 1 tbsp
Water – 1/4 cup
Vinegar – 1 tbsp
Salt – 1/4 tsp
Chili – 1-2 pcs
Garlic – 3 cloves
Chicken
Chicken Wings – 3 pcs
All Purpose Flour – 2 tsp
Roasted White Sesame – 1 tsp
Coriander Leaves – 3-4 leaves
Preparation:
Preheat oven to 190c. Line a baking tray with parchment paper.
Rinse chicken wings and pat dry with a paper towel. Toss with flour, salt, and pepper.
Spread out on prepared pan. Bake 20 minutes flipping over after 10 minutes.
Sauce: Combine all sauce ingredients in a small pan. Bring to a boil and let boil 4-5 minutes, set aside.
Remove wings from the oven and place in a large bowl, toss with sauce.
Place back on the baking tray and bake additional 5-10 minutes or until sauce is thickened.
Cool 3-4 minutes and sprinkle with roasted sesame and coriander leaves before serving.
Nutrition Information (per serving)
Only 489 calories per serve.