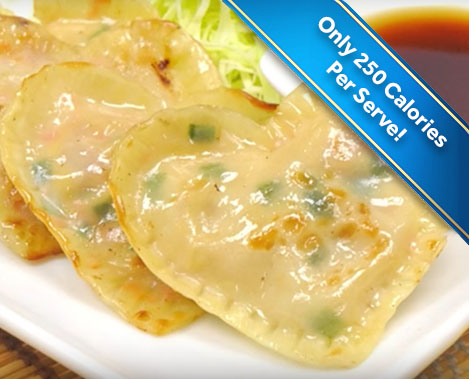 Ingredients
24 sheets dumpling wrapper
½ cup minced pork
½ cup shredded cabbage
3 tbsp chopped Chinese chives
2 tbsp chopped carrot
2 tsp grated ginger
1 tsp seasoning sauce
2 tsp oyster sauce
1 stick Equal Gold
1 tsp vegetable oil
4-5 tbsp water
For the sauce
3 tbsp seasoning sauce
3 tbsp vinegar
3 tbsp water
3 sticks Equal Gold Zero Calorie Sweetener
Preparation
For the sauce, heat the pan over medium heat and add seasoning sauce, vinegar, water and Equal Gold Zero Calorie Sweetener in the pan. Stir the mixture well. When it gets hot, remove from the heat and let it cool down.
Combine minced pork, Chinese chives, carrots, ginger, and then season with seasoning sauce, oyster sauce and Equal Gold Zero Calorie Sweetener. Mix well.
Place a spoonful amount of filling in the center of wrapper. Moisten the edge of wrapper with little water and place another wrapper over the top. Press it gently. Then press a heart-shaped mold on dumpling and crimp all the edges using a fork.
Heat small amount of oil on the pan. Place dumplings in the pan. When they turn golden, add water and put the lid on. Wait until cooked. Serve with the sauce and shredded cabbage.
Nutrition Information (per serving)
Calories 250 kcal / 1 serving