PAD THAI NOODLES WITH SHRIMP


2 Servings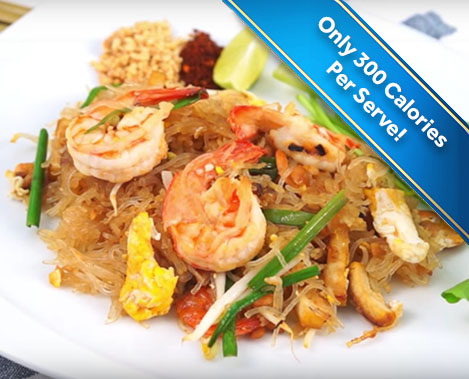 Ingredients:
200g vermicelli
6 shrimps
3 garlic chives
3 tbsp firm tofu
1 tbsp sliced Chinese pickled radish
2 tbsp dry shrimps
1 egg
1 tbsp sliced shallots
¼ cup water
3 tbsp vegetable oil
1 cup bean sprout
2 tbsp roasted peanut
For the sauce
2 tbsp tamarind paste
1 tbsp fish sauce
½ tbsp soy sauce
3 sticks Equal Gold Zero Calorie Sweetener
¼ cup water
Preparation:
For the sauce, add water, tamarind paste, fish sauce, soy sauce and Equal Gold Zero Calorie Sweetener. Turn on the heat and simmer the mixture until boil. Transfer it to a cup and let it stand.
In a pan, add oil, sliced shallots, tofu, sliced Chinese pickled radish, dry shrimps and mix them all. Then add shrimps and vermicelli. Pour in small amount of water. When the noodles starts to get cooked, add Pad Thai sauce and stir. Crack egg into the pan and add bean sprouts. Stir in the vermicelli. Add garlic chives, roasted peanuts and mix well. Serve with fresh garlic chives, gotu kola, banana blossom, sliced lime and ground chili.
Serves 2.
Nutrition Information (per serving)
Cooking time 20 mins
Calories 300 kcal / 1 serving