SALMON SUSHI SANDWICH


Serves 4 (16-18 pieces)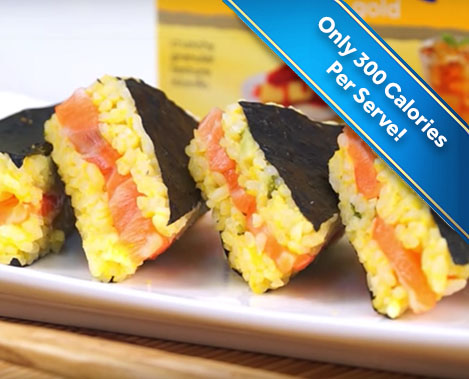 Ingredients:
150g salmon
2 sheets large seaweed
1 cup Japanese rice
1 ½ cup water
½ cup chopped broccoli
½ cup chopped pumpkin
3 tbsp rice vinegar
2 sticks Equal Gold Zero Calorie Sweetener
½ tsp salt
Preparation:
Cook the rice with broccoli, pumpkin and water for 20-25 minutes.
Mix together rice vinegar, salt and Equal Gold Zero Calorie Sweetener
Microwave the mixture for 1 minute.
Then pour it over cooked rice. Stir well and let the rice cool down.
Spread a layer of rice on top of both seaweeds. Arrange salmons on top of the rice and then put the other sheet of seaweed on top of the salmon. Press it tightly and cut into triangles like a sandwich.
Serve with wasabi and shoyu as desired.
Serves 4.
Nutrition Information (per serving)
Cooking time 30 mins
Calories 300 kcal / 1 serving