FUDGY MACADAMIA BITES


Serving size 16 squares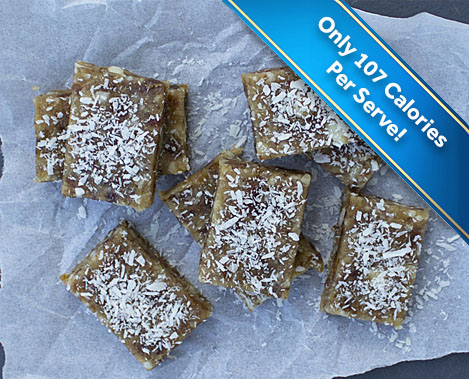 Ingredients:
Makes 16 squares
1 Tbsp tahini (hulled)
½ tsp Equal Gold Sugarly Zero Calorie Sweetener
1 Tbsp coconut oil, melted
1 cup macadamia nuts
1 cup medjool dates (8 dates), pitted
2 Tbsp desiccated coconut
Preparation:
In a bowl, combine the tahini, Equal Gold Sugarly Zero Calorie Sweetener and melted coconut oil. Stir until combined.
In a food processer, blitz the macadamias until a fine crumb. Add the dates and tahini/coconut oil mixture and blitz until combined.Press mixture into a 1L oblong container or small baking tray lined with baking paper and place in the fridge for at least 2 hours.
Sprinkle with desiccated coconut before slicing. Store in an airtight container in the fridge.
Serves 16
Nutrition Information (per serving)
Calories 107kcal
Protein 1g
Fat 8g
Saturated fat 2g
Carbohydrate 9g
Sugars 8g